My Stuff
Epic Racers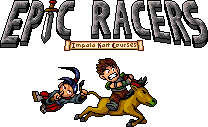 Epic Racers is a hack of Super Mario Kart (jeu de Super Nintendo), on which I'm working with Ok Impala!.
Both of us work on the hexadecimal hacking side, Impala deals alone with the creation of the new tracks, and I take care of all the new game graphics.
All the tracks and the vast majority of the graphics will be changed. All the 8 Nintendo heroes will be replaced by other characters with different stats...
The new characters are as follows:
| | | | |
| --- | --- | --- | --- |
| Jesus | Camy | Don Miguel | Sasori |
| Loki | Ok Impala! | Troll | Stifu |
Those interested in Super Mario Kart hacking can download our notes about the game, that are basically a (non-exhaustive) list of data and offsets in the ROM. The notes are available in CHM and ZIP formats.