My Stuff
Epic Racers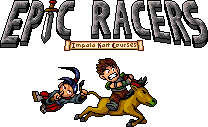 Epic Racers is a hack of Super Mario Kart (jeu de Super Nintendo), on which I've worked on with Ok Impala!.
The project is dead, but you can download the beta version. This is an IPS patch that should be applied on a headerless US Super Mario Kart ROM.
Both of us worked on the hexadecimal hacking side, Impala dealt alone with the creation of the new tracks, and I took care of all the new game graphics. All the tracks and a big part of graphics have been be changed. All the 8 Nintendo heroes have been replaced by other characters with different stats.
The new characters are as follows:
| | | | |
| --- | --- | --- | --- |
| Jesus | Camy | Don Miguel | Sasori |
| Loki | Ok Impala! | Troll | Stifu |